CPA Growth Trends, Marketing
Seasoned Marketer: Top 5 Reasons Why an ABM Strategy is Necessary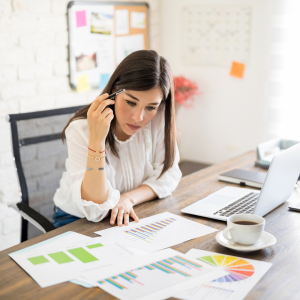 As digital marketing continues to dominate, as well as the power of personalization, there is no better time to start thinking about an account-based marketing (ABM) strategy. So, let's start at the beginning, what exactly is ABM? According to Hubspot, account-based marketing is a focused growth strategy in which Marketing and Sales collaborate to create personalized buying experiences for a mutually identified set of high-value accounts. The keywords in this definition that should stand out to any marketer are: personalized and high-value accounts. If used properly, this approach will lead to quality conversions.
Here are some top reasons why an ABM campaign is necessary:
Targeted Approach: ABM allows businesses to focus their efforts on specific high-value accounts or target customers. Instead of casting a wide net, ABM enables personalized and tailored marketing strategies for individual accounts, increasing the chances of success. To get started, marketing and sales must work together, identify your ideal customer profile (ICP) and determine who is identified as a target account. According to Hubspot, to determine what qualifies a potential account, consider these three factors:
Financials: With your company's sales goals in mind, consider how much revenue can be generated from an account.
Scalability: Based on what you know about the potential account's business performance, is there potential to grow the account in the future? Consider additional offerings your company could provide to retain and grow the account.
Competitive Landscape: Who are your competitors selling to? Understanding who is currently in the market for products and offerings like yours can help you identify future account opportunities.
It also may be helpful to develop account personas. Once the accounts are established, discover how and where you can attract contacts associated with your target accounts. Where are they going to find solutions related to what you do? Do they attend any industry conferences you can attend? Do they frequent certain websites where you can place target ads? What intent topics are they focused on where you can develop content?
Enhanced Personalization: This has already been mentioned a couple of times, but the key to a successful ABM campaign is personalization. ABM enables businesses to create highly personalized marketing messages and experiences for target accounts. By understanding the unique pain points, needs, and preferences of each account, businesses can deliver customized content, offers, and solutions that resonate with their audience. Some examples of personalization include personalized messaging with industry knowledge, personalized ad and landing page copy with the company name and research on a contact's likes and interests via social media that you can use in emails or depending on budget, send gifting.
Improved ROI: A marketer's favorite three letters. Due to its targeted nature, ABM campaigns often yield a higher return on investment (ROI) compared to traditional marketing approaches. By concentrating resources on accounts with higher potential for conversion and revenue, businesses can optimize their marketing spend and achieve better results.
Increased Conversion Rates: With its personalized approach, ABM can help improve conversion rates. By tailoring content and offers to the specific needs and pain points of target accounts, businesses can significantly increase the likelihood of conversion, nurturing stronger relationships with key accounts.
Deeper Customer Relationships: ABM emphasizes building long-term relationships with target accounts. By providing personalized experiences and demonstrating a deep understanding of their needs, businesses can foster trust, loyalty and advocacy, leading to stronger and more profitable customer relationships.
ABM companies that can help get you started:
As you begin this process, working with a third-party ABM company can be crucial to get the ball rolling and make things happen seamlessly and effectively. Here are some of the best platforms in 2023.
Click here for more ABM Softwares.
Overall, ABM enables businesses to engage key accounts on a more personal level, improve conversion rates, align sales and marketing efforts and drive revenue growth and ROI. By concentrating efforts on high-value accounts, businesses can achieve a higher level of success and build long-lasting customer relationships.
For more information on ABM, click here for Hubspot's Ultimate Guide to Account-Based Marketing.

Rachel Pompeani is currently the Growth Marketing Manager at ClearyRated, a satisfaction survey program designed for B2B service firms, and has been in this role since July 2021. She has an array of responsibilities at ClearlyRated, including digital marketing, content management, email communication, graphic creation, and more.
Welcome to CPA Growth Trends — your source for information, insights, tools and best practices to drive growth within an accounting firm.
Featured: Season 2 Episode 1
with Dan Hood, Accounting Today
The Intersection of Marketing and HR for Accounting Firms Strategic Planning for the Future, Observations, and Advice -w- Dan Hood, Accounting Today