CPA Growth Trends, Marketing
Seasoned Marketer: 16 Ways to Make an Impact When Your Firm is at Capacity
These days, plenty of firms are at capacity and either not taking on new clients or being very selective about the clients they do onboard. This might limit some of the responsibilities you have as a marketer, but there are still plenty of ways to make an impact! Here are 16 ideas.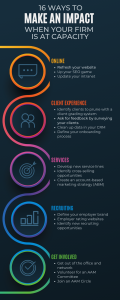 ONLINE
Update your intranet. Is it organized well? Are there departments that aren't represented? Can you make the interface more modern?
Refresh your website. Are there opportunities to update photos? Can you add more video? Does the content need a refresh?
Up your SEO game. Are you tracking your keywords with a keyword tracker? Are there old blog posts you can update based on keyword research?
CX
Focus on pruning clients with a grading system. If your firm doesn't have a grading system, create one!
Survey your clients. This can help your firm gauge where improvements can be made.
Clean up data in your CRM or onboard a new CRM.
Define your onboarding process. Are there places in your client experience that can be improved?
SERVICES
Develop new service offerings (data analytics services, ESG services, wealth management) to leverage when resources are available. There's a great AAM webinar on how to do this!
Cross-sell. Are there areas of cross-selling your firm can capitalize on? Take a look at your B and C clients to see if there are opportunities.
Account-based marketing. Does your firm have an ABM strategy? Now might be the time to create one.
RECRUITING
Define your employer brand. Talk to your staff about why they chose your firm and capitalize on their responses in marketing collateral.
Employer rating websites. Update or create your profile on Glassdoor and other employer rating websites.
Identify recruiting opportunities. Are there colleges you aren't currently recruiting at that might be good options? Working on developing relationships there.
GET INVOLVED
Get out of the office and network! Does your local Chamber have an ambassador program? Are you a volunteer anywhere? Can you join a board?
Volunteer for an AAM Committee.
Join an AAM Circle!
During times when your firm is "at capacity," don't limit yourself as only a marketer. Where else can your marketing skills bring value to your firm? Don't be afraid to ask where you can help!

Rachael McGrew is the Business Development Director for Landmark CPAs, one of Arkansas' largest accounting firms. In her role, she wears many hats, including overseeing the firm's marketing and business development strategy, managing internal and external communications, maintaining the firm's social media and web presence, planning and executing firm events and community outreach programs, assisting with M&A, coordinating recruiting campaigns, and serving on industry association committees. Within AAM, Rachael leads an AAM Circle focused on HubSpot. She is a graduate of the Leadership Fort Smith program and a 40 Under 40 honoree by both the Arkansas Business Journal and the Northwest Arkansas Business Journal. She is also a member of the Associated Builders and Contractors of Arkansas' Western Council. Rachael holds a Bachelors of Business Administration in Marketing with a minor in Interdisciplinary Studies from the University of Central Arkansas and a Technical Certificate in Graphic Design from the University of Arkansas – Fort Smith. She is married to an outgoing entrepreneur she's known since junior high, and they have a witty teenager they follow around to volleyball practice and tournaments.
Welcome to CPA Growth Trends — your source for information, insights, tools and best practices to drive growth within an accounting firm.
Featured: Season 2 Episode 1
with Dan Hood, Accounting Today
The Intersection of Marketing and HR for Accounting Firms Strategic Planning for the Future, Observations, and Advice -w- Dan Hood, Accounting Today