CPA Growth Trends, Marketing
Business Development: Marketing and Sales Blur When Screening Prospects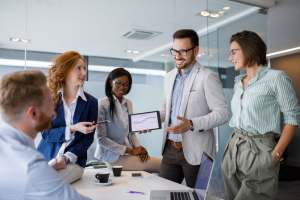 Marketing and business development departments within CPA firms have been tasked with doing just about everything except delivering client service. (Fortunately, we're never asked to help prepare a tax return!) But as growth leaders, we need to prioritize customer acquisition and that means generating more leads for our firm.
That said, we can't just generate any lead because time is money. And turning over unqualified leads to our CPAs or practitioners not only wastes their time but also leads to a negative perception of marketing.
Rather, everyone needs to work together to develop strategies and systems that help produce more sales-qualified leads (SQLs). The first step in doing this is understanding the definition of an SQL within your firm, and more specifically within each industry and practice group. Then own the initial prospect vetting phase for all inbound leads generated through digital marketing, events, conferences and more.
The Initial Prospect Screening Process
All leads generated through marketing efforts should flow through the marketing department for further qualification and be tracked in a pipeline report in CRM (or in an Excel spreadsheet if necessary). Start by having a dynamic short form on your website to gather cursory information, such as:
Are you an individual, business owner, nonprofit executive, government administrator, etc.?
What's your industry?
What is your company/organization name?
Do you need a one-time consultation, or are you interested in hiring a CPA/business consultant?
What do you need assistance with?
This initial screening process allows you to quickly turn prospects away via email if they're not a good fit or move them further down the pipeline for additional screening. If a prospect calls in, instruct your receptionist to send these leads to someone within your marketing department or an inbound sales representative. You can even have them send select prospects (perhaps individuals who need assistance preparing a 1040) to your online form. This helps you avoid spending time talking with someone that is likely not a good fit for your firm.
This short website form should be your first level of prospect screening. At this stage, you shouldn't be passing them off to a practitioner. If a prospect seems like a marketing-qualified lead (MQL), have a dedicated sales representative (someone who's focused on inbound, partner sales support and client expansion) or someone in the marketing department call the prospect to vet them further. While some firms email a longer form or questionnaire as a second line of screening, a conversation with the prospect is typically preferred by both parties.
The Secondary Prospect Screening Process
Your phone screening process should involve a much longer, dynamic form used to guide the conversation. This form includes call scripts, prompts and all the questions for each industry or practice group that allow you to determine if the lead is sales qualified. Questions you might ask a commercial business could include:
How long have you been in business?
How many employees do you have?
What's your yearly revenue?
What's your entity type?
Where are you located?
Do you currently work with a CPA?
Why are you looking to hire a new CPA?
Are you shopping around or are you interested in working with us?
Are you the decision maker or will others help you hire a new CPA?
What's your budget for services?
This should be an in-depth conversation, allowing you to dig deep to really understand a prospect's business and what they're looking for. It's also a good time to uncover additional pain points and start building rapport with a prospect.
Remember that each industry and practice group is different. Your qualification questions for your manufacturing team will be much different than those for your real estate team. Make sure you have close alignment with each group to understand their ideal client profile and build that into your qualification process.
How to Handle a Sales Qualified Lead
Only after you determine a lead is sales qualified should you schedule with one of your practitioners. Make sure you have a process in place for knowing who within your firm to schedule prospects with and make sure you have access to their calendars so you can schedule the meeting on the spot. Try to schedule the meeting as soon as possible; if you wait too long, the prospect will start looking for another provider.
Confirm the prospect is comfortable with a video meeting (or schedule something in person if they prefer), and send a calendar appointment to both parties that includes detailed information. Make sure your people have all of your call notes. Be sure to call the prospect one business day ahead of time to confirm the meeting, too.
Have your sales representative sit in on the meeting if the prospect meets a certain threshold (revenue, industry, number of services, etc.). They can make sure questions are answered and next steps are identified. They can also help move the prospect through the pipeline, which should be used to track all sales activity.
Keep it Simple
The line between marketing and sales is becoming more blurred. This is especially the case at CPA firms in which marketing departments either own the initial phases of the business development process or closely align with sales in bringing them further down the pipeline.
Most importantly, you need to manage as much of the sales process as possible – alongside sales representatives, if available. Only bring in practitioners as subject matter experts and to help prepare quotes. By keeping the process simple, you can help your firm close more deals all while elevating marketing by bringing your firm more sales-qualified leads and new business.

Stacy Dreher is the marketing director for James Moore & Co., a CPA and business consulting firm with five offices throughout Florida. She has over 15 years of experience developing growth strategies for professional services firms and building teams and systems to effectively execute them.
Welcome to CPA Growth Trends — your source for information, insights, tools and best practices to drive growth within an accounting firm.
Featured: Season 2 Episode 1
with Dan Hood, Accounting Today
The Intersection of Marketing and HR for Accounting Firms Strategic Planning for the Future, Observations, and Advice -w- Dan Hood, Accounting Today