CPA Growth Trends, Martech
Business Development: How Business Developers Use MarTech to Drive Engagement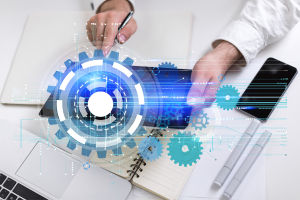 Technology is constantly evolving and accounting firms are changing their MarTech stacks to ensure they are keeping clients and prospects close. Not only do they seek to improve what they are doing, they are looking to gain a competitive advantage that leads to growth.
When it comes to technology, the big questions firms ask are: what technology are people using, how it makes a difference and where to get started. But how does this MarTech conversation impact full-time business developers as well as partners that have BD responsibilities? It comes down to engagement — within the team and with clients and prospects.
CRM is the King of MarTech
In a post-COVID world, a lot has changed regarding how firms go to market. Prior to 2020, there was a significant divergence between face-to-face networking and more traditional digital marketing and selling that takes place in your typical corporate environment. The former does not require significant technology or infrastructure and the latter can't really function well without it.
This makes it mission-critical to have a CRM software in your MarTech stack. In the early days of CRM, people perceived it as a way for big brother to watch them. For partners in accounting firms, it added noise to an already long day. And to be honest, those systems back in the day didn't have the ability to leverage some of the modern tools used today, like mobile phones. Things have changed and CRM is now the hub of MarTech for many firms.
When it comes to selling services and growing the business, there is often little structure within accounting firms. Yet, these same firms have a written set of procedures or policies for all sorts of things all the way down to cleaning out the refrigerator in the break room. CRM provides structure. It reinforces the fact that what's written down is important. You have great people and great services. Deploying CRM is a must to provide a simple infrastructure to empower people to drive your growth engine.
What Business Developers Need from MarTech
Software publishers throw a lot of bells and whistles at you when you are evaluating solutions like CRM, marketing automation, sales intelligence, etc. This makes it hard for business developers to "tailor" a solution that fits as well as your favorite suit or dress. This becomes more complicated as you question how painful it may be to move from the software you choose today, to something more robust in the future. The good news is that many of the current software platforms can scale with you from startup to providing enterprise-level capabilities.
There is also a baseline of communication, organization and collaboration that seems to be the focus for the most successful accounting firms at any level. Marketing works in a one-to-many world where they are trying to raise awareness for the brand or implement specific calls to action for lead generation. Any tech stack that can do this and stay compliant with anti-spam laws is a bare minimum. Then, the CRM portion of the solution needs to be able to handle personalization for tracking key demographics of organizations and people. This translates into better segmentation and organization information for both BD and marketing efforts.
Your MarTech solution must also have the ability to track sales efforts, normally called pursuits or opportunities in the software, which is vital to the business developer and the sales process. This includes a pipeline of expected signed engagements and the tracking of unsuccessful efforts so you can learn to better compete in your markets. Complimentary to this will be analytic and reporting tools, but they may not be the deciding factor in platform selection. What may be though is whether a particular platform has certain integrations or can integrate with other important technology systems in the firm, like practice management.
The Brass Ring of Firm MarTech
For some firms today, technology and cultural evolution make CRM critical for business development success. These firms have reached the brass ring and are "the firm of the future" in many aspects of how they operate. This has come with two fundamental shifts: how they embrace CRM and how they leverage data to drive growth for the firm.
Firms have been dealing with the question of CRM buy-in and creating a business development culture for much of the past two decades. Many successful firms don't even use the term CRM. Rather, they focus on their "client" database, which is the central data repository that enables the firm to produce the best client experience possible. This database often houses everything from time and billing data to client documents and everything in between. It becomes the only place to do "business" for anything that relates to a client.
With automation and workflow, buy-in comes easily for day-to-day tasks that empower people and makes their jobs easier. And many managing partners and partners in charge of specific practices are also promoters of these technologies, working to ensure that people in the firm understand the importance.
These top firms also leverage data in many different ways to better understand their markets and how their clients, prospects and people engage with them. MarTech can not only provide insights on how many people are engaging with people outside the firm, but also their entire digital footprint combined with "people" activity. If you add in the AI capabilities being used by most of the top 50 firms to understand relationships, you have another competitive advantage that can really empower BD professionals.
MarTech Accelerates BD Efforts
Unfortunately, the MarTech journey is a lot like math. It requires that you have building blocks of both data and process to eventually get your business development capabilities where they need to be. The good news is that the "math" has gotten much easier every year and the building blocks will have an immediate impact on accelerating your BD efforts and growing your firm.
Whether you are looking for better engagement amongst team members, between team members and clients, or with prospects, there is likely a MarTech solution that will help. And with the crazy pace technology is changing, a solution is being developed today for the need you'll have tomorrow. MarTech is making sales enablement easier and giving a competitive advantage to business developers who use it effectively.

Danny Estrada, MBA, is the Vice President for Consulting at Rare Karma. He focuses on helping organizations realize their growth and sales goals through leveraging AI and relationship intelligence. Danny has over 20 years of experience as a CRM practitioner and management consultant focused on the deployment and adoption of CRM platforms.
Welcome to CPA Growth Trends — your source for information, insights, tools and best practices to drive growth within an accounting firm.
Featured: Season 2 Episode 1
with Dan Hood, Accounting Today
The Intersection of Marketing and HR for Accounting Firms Strategic Planning for the Future, Observations, and Advice -w- Dan Hood, Accounting Today