AAM Virtual Conference and Upcoming Member Resources Center on Navigating the Future of Intelligent Technologies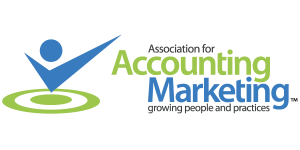 Contact: Rhonda Clark
Executive Director
859.494.1185
AAM Virtual Conference and Upcoming Member Resources Center on Navigating the Future of
Intelligent Technologies
Marketers Can Learn How to Leverage the Power of Generative AI 
September 28, 2023 | Lexington, KY – The Association for Accounting Marketing (AAM) announced a series of upcoming resources dedicated to improving members' understanding of AI, driven by AAM's fourth annual one-day virtual conference, Emerge, on October 4, 2023. This year's programming focus on Intelligent Technologies will address their impact on the future of accounting firms, and the approaches firms can take to transform their efficiencies and growth journeys with these technologies.
Emerge allows accounting growth professionals to network and collaborate with AAM's chain of marketing, business development, and growth strategists while they take in informative sessions presented by minds at the forefront of the intersection of AI with marketing and the accounting profession.
New for the 2023 Emerge conference is the opportunity to partake in two hands-on workshops: an AI ChatGPT and Prompt Engineering Workshop and an AI Policy Workshop. The AI ChatGPT and Prompt Engineering session will teach participants how to leverage generative AI, particularly ChatGPT, to improve efficiency in daily product activities and will also focus on how to engage the full potential of Large Language Models (LMM) through masterful prompt engineering. In the AI Policy Workshop, attendees will receive guidance on all the areas a firm's AI policy should address, followed by a 30-minute hands-on working session through an AI policy worksheet. Participants will walk away with clear next steps to advance this initiative and finalize a concise, enforceable AI policy for their organizations.
Additionally, AAM members have the option of joining a networking "circle" of members that meets monthly to discuss the multiple impacts and case uses of AI.
"AAM fosters a collaborative environment, which is essential and resourceful now more than ever," commented Rhonda Clark, executive director of AAM. "As an organization, we are committed to exploring the power of AI to foster a deeper knowledge and understanding among our members through avenues such as Emerge, as we know that embracing AI is not an option but is imperative for those seeking to shape the future of their firms."
AAM's Emerge conference is open to both members and non-members and includes panel discussions, networking breaks, and hands-on workshops. Additional information, including the full agenda, speaker line-up, and registration information, is available on the Emerge website. Members of the media are also invited to attend Emerge on October 4, 2023, to learn how leaders in the accounting marketing space are incorporating the transformative potential of AI into their daily work and into their firms' futures. Those interested can explore the Emerge session agenda here.
About the Association for Accounting Marketing
The Association for Accounting Marketing (AAM) is an international association boasting a network of marketing, business development and growth strategists. The association was formed in 1989 to elevate the profession and advance the careers of growth professionals in the accounting profession through education, community, thought leadership and leading-edge resources. Learn more about AAM at www.accountingmarketing.org.