Happy Social Media Day! Social Media Tips from Our Experts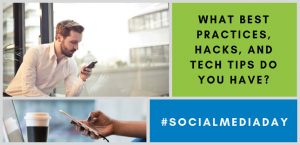 Social Media Day is June 30. It was founded back in 2010 by Mashable. The best thing about Social Media Day is that you can celebrate on any social media network you want! In honor of the day, our members share some of their social media best practices, hacks, and tech tips.
Here are some of the responses.
From Brian Powers of JGS, CPA:
"Use original content whenever possible. Real photos of staff and originally-written articles always perform best." – Brian Powers, Vice President of Business Development & Marketing, JGS, CPA, P.C., Middletown, NY.
Natasha Willis suggests that, "People use an automated re-sharing program (Hootsuite, CoSchedule, etc.) to make the most of evergreen content."
Teresa Litrico offers this advice:
Research relevant and trending hashtags and use them;
Don't forget to tag the content author in the social post; and
Share content from other industry thought leaders, not just your own firm's thought leaders.
Becky Livingston, from Penheel Marketing, shared these tips:
Define and understand your social media goals as they relate to the business.
Research your target audience to identify how they spend their time on social and what media they are consuming. Then adjust your strategy to fit their need.
Identify which platforms you gain the most engagement/lowest CPC or conversion and direct your energy to that platform.
Create an automated, weekly or monthly social media report from Google Analytics to help you gauge success.
Happy Social Media Day! What social media hacks, best practices, or tech tips do you have? Comment below! Don't forget to post about the holiday using #socialmediaday on your favorite channels.
Summary
Use original content and imagery
Automate your evergreen content
Use relevant and trending hashtags
Tag the content author in social posts
Share content from others
Tie your social media goals to your business
Research your target audience to define your strategy
Direct your energy to platforms that produce the best results
Create an automated report to gauge success

Becky Livingston is the President and CEO of Penheel Marketing, a NJ-based firm specializing in social media and digital marketing for CPAs and small business owners. With over 25 years of marketing and tech experience, she is also the author of "SEO for CPAs - The Accountant's SEO Handbook: Get Found Online Organically," "The Accountant's Social Media Handbook." In addition to being a practitioner, Becky is also an adjunct professor and speaker. Connect with Becky or her firm on Facebook, LinkedIn, Pinterest, Instagram, and YouTube.
Welcome to CPA Growth Trends — your source for information, insights, tools and best practices to drive growth within an accounting firm.
Featured: Season 2 Episode 1
with Dan Hood, Accounting Today
The Intersection of Marketing and HR for Accounting Firms Strategic Planning for the Future, Observations, and Advice -w- Dan Hood, Accounting Today