How to Focus Your Marketing and Business Development Through Market Segmentation and Personalization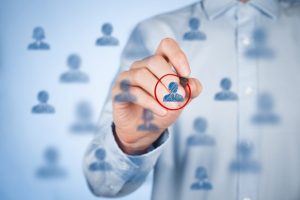 A market segmentation and personalization strategy organizes your client base into smaller, more manageable groups. Your clients can be segmented by:
Demographics: Grouping clients by age, income level, gender, family size, nationality, language, etc.
Psychographics: Grouping your clients into cultural clusters, social status, and lifestyle, e.g., high net worth individuals.
Behavior: Grouping clients by the number of services purchased, engagement with your firm's social media, website visits, articles read, participation in events, how they want to hear from you, etc. This stage also factors in brand loyalty.
Geography: Grouping clients by a specific area, such as regions of the country or state and urban or rural.
Decision Makers: Grouping your clients based on who decides to purchase accounting and consulting services within the company structure, e.g., by title.
Industry: Grouping clients based upon the industry in which they operate. If this sounds like niche marketing – a common marketing strategy among CPA firms – you're right.
Market segmentation can help you gain a competitive advantage by understanding the needs of a specific client base.
Steps for Market Segmentation
It is important to prepare and do your research upfront to determine your segments/niches and then align with marketing and business development efforts.
It's all about the data.
Market segmentation begins with data collection. Determine the types of information you'd like to collect based upon the categories above. Keep it simple to start. Then, continue to add information over time.
Using industry segmentation as an example, segment your clients by SIC or NAICS codes. Then, for each industry, calculate the gross fees, net fees, realization, average fees billed, average hours billed, average billing rate, and number of clients. Also, analyze your client base by sales volume, geographic location, and services provided.
Graph this information to give an accurate picture of your client base. This will show you in which industries you are spending the most time, earning high fees, experiencing high collection rates, offering a variety of services – all opportunities for niche market development.  It will also show you which industries are not providing a profit, so that you can avoid them.
Talk with experts and clients in the industry to understand their service needs and hot buttons. Trends that influence an industry niche can create opportunities for additional firm services, expand the scope of services to existing clients, and provide services to new clients experiencing the same trends.
Then, gather information about your chosen niche industries. Resources include First Research, VerticalIQ, IBISWorld, GuideStar, Census Bureau Economic Statistics, and Bureau of Labor Statistics by Industry.
Collaboration with your firm's partners and team members is critical during the data collection phase. Talk to them about their clients, the challenges their clients have, and potential solutions your firm can provide.
How to track the data? While many firms use sophisticated customer relationship management (CRM) software, e.g., HubSpot, Salesforce, Microsoft Dynamics 365, the majority of firms use Excel spreadsheets.
Demonstrate your knowledge and understanding of your clients by creating personas.
According to HubSpot, a buyer persona is a semi-fictional representation of your ideal client based on market research and real data about your existing clients. Buyer personas help you understand your clients better. This makes it easier for you to tailor your content, messaging, and services to meet the specific needs, behaviors, and concerns of the members of your target market.
Here are some questions to consider when creating your personas:
What is their demographic information?
What is their job and level of seniority?
What does a day in their life look like?
What are their pain points? What do you help them solve?
What do they value most? What are their goals?
Where do they go for information?
What are their most common objections to your service?
Check out HubSpot's free Buyer Persona Templates and Make My Persona tool for help.
Create content by segment.
Your buyer personas help you understand your customer's needs and challenges. Expand on these to create a clear roadmap of how your firm can meet the needs of each persona. This will feed directly into the content creation.
With this information, you can produce a library of content to meet the personal needs of each market segment. Your content can include:
Blog posts/Articles
eBooks
Infographics
Videos
Case studies
Whitepapers
Templates/Checklists
How-to Guides
Your content can then be shared on your website, blog, social media, and via email.
Again, start slowly. Select the content that is realistic and timely to produce. Then, build on it over time.
 What is Market Personalization?
According to Instapage, marketing personalization, also known as personalized marketing or one-to-one marketing, is the practice of using data to deliver brand messages targeted to an individual prospect.
Tyson Quick, Founder and CEO of Instapage, identified three common strategies that every brand can build off of to ensure they create a strong personalized marketing plan:
Know your customer's needs.Every customer expects you to know their needs. When they punch a long-tail query into your search bar, they expect content that answers it.
Remember who your customers are and what they've done, on any channel or device.Aim to know exactly what your prospects have done, the kind of messaging they've responded to, the type of content they like, their communication preferences, and more.
Anticipate your customer's future needs.If you have the advantage of knowing their personal details and browsing behavior, you have the power to predict what's coming next.
Clearly, market personalization is more than sending your emails with "Dear <FirstName>." It requires an analytics platform like Google Analytics; a CRM; a post-click landing page platform; email marketing platform; and, a tag management platform. This discussion is beyond the scope of this article but important to consider for your firm moving forward.
Conclusion
Technology, the availability of data, and people's desire for targeted, customized communications and service offerings will continue to make market segmentation and personalization important strategies for accounting firms. Start where you are and create a plan to deepen your firm's market segmentation and personalization efforts.
About Jean Marie Caragher

Jean Caragher gets things done. For CPA firms seeking to improve their marketing, Jean is the go-to resource for strategy and implementation. With over 30 years of experience working solely with CPAs, Jean knows the challenges and opportunities firms face today. Her experience and knowledge, combined with her practical approach, help growth-focused CPA firms attract the best clients and talent. Jean is an inaugural AAM Hall of Fame inductee, a multiple AAM-MAA award winner, and a CPA Practice Advisor Thought Leader. She has twice been named one of Accounting Today's 100 Most Influential People in Accounting.
Welcome to CPA Growth Trends — your source for information, insights, tools and best practices to drive growth within an accounting firm.
Featured: Season 4 Episode 1
with Danielle Reynolds, Business Development, Manager with Whitley Penn
A business developer's day involves a myriad of activities from external meetings with business owners and referral partners to scoping calls for initial client connections.