Communications, CPA Growth Trends
Managing the Talent Pipeline: Staying Connected with Candidates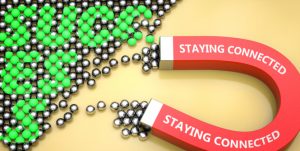 Like many other professions, accounting is experiencing a talent shortage. Fewer university students are pursuing accounting degrees, fewer accountants are pursuing CPA licensure and more experienced professionals are leaving the job market or changing careers. This means we are all pulling from a shrinking pool of professionals who now have an advantage in deciding where their next career move will take them. It's already hard to compete with the larger firms with national reach and seemingly unlimited financial resources. But make no mistake, the larger firms are feeling this pinch, too. So how does your firm stand out and gain the upper hand in the recruiting game? A consistent and focused communications campaign may be the answer for you.
A simple and integrated 3-2-1 campaign can help keep your firm top-of-mind with candidates for current or future open positions. It can also give you insight into the job seekers market, which can help with both future recruiting efforts and amending cultural norms at your firm. Here's how it works.
There are three primary ways to contact candidates: in-person (including video conference), via phone, or by email/text. Once you identify the candidates you wish to keep in contact with, you schedule a campaign to connect with them three (3) times a year via a phone call, two (2) times per quarter via email, and once (1) per quarter in person or via video conference. This 3-2-1 campaign should be employed even if the candidate has taken a role at another company. If they are a candidate today, they are a candidate tomorrow regardless of their current position. And, this method certainly works well with university students who are contemplating joining your firm.
To make this method even more effective, involve recruiting and human resources. They are the lead in this effort and will have the information needed to personalize messaging. In-person and phone connections should be done by recruiting and/or human resources or the hiring manager. Consider meeting for coffee, lunch, or dinner. It's like courting a client. When scheduling in-person meetings, involve others beyond recruiting and human resources. Give the candidate exposure to those they would be working with should they become a team member. It makes the transition decision easier.
Emails should be drafted with marketing's input and should be personalized to each candidate. For example:
"Hello Susan. I hope all is well with you and the new role. Last we spoke, you and your family were traveling to Italy. My wife and I are planning an Italy trip, and I'd love to get some tips from you when you have the chance to talk. On another note, we've debuted our Forensic Accounting Department, and we are having some great success with it. I'd love to talk to you about it. Do you have about 15 minutes in the next two weeks?"
In the email example above, I take a more personal route to help ensure engagement, but I do not lose sight that this is a recruiting effort. These emails should come from an individual in the firm that the candidate is familiar with, not an automated email app.
Though the recruiting and/or human resources team leads this effort, remember this is a marketing campaign and should be managed as such. Metrics should be tracked, and the information collected should be input into a CRM or spreadsheet so your client—recruiting/human resources—can review the success of the campaigns with you and make adjustments as needed.
It's a simple process, but it must be consistent and personalized to ensure success. Even the smallest firms can employ a 3-2-1 campaign, and in fact, it could be a game changer for your firm's recruiting team. Just remember two things: 1) recruiting a candidate does not end when/if they choose another employer, and 2) recruiting campaigns are marketing campaigns as well and are an extension of your brand and culture. I hope this works for you!

Eric R. Elmore is the marketing and brand manager for Drucker & Scaccetti, a tax-focused accounting firm, in Philadelphia. He has more than 20 years of experience working with professional service firms helping them communicate to the world who they are, what they do and why it is of value to targeted audiences.
Welcome to CPA Growth Trends — your source for information, insights, tools and best practices to drive growth within an accounting firm.
Featured: Season 4 Episode 1
with Danielle Reynolds, Business Development, Manager with Whitley Penn
A business developer's day involves a myriad of activities from external meetings with business owners and referral partners to scoping calls for initial client connections.