Google Analytics 4 Overview: New Interface and Features
Google Analytics as we know it is dead. It's a bold – but true – statement. GA4 is a brand new product with brand new features and interfaces. And plenty of benefits…once you figure out the differences, learn the new terminology, and get used to a new interface.
Why the Change to GA4?
As you read in the Beginner's Guide, the overarching reason is that since both technology and the way consumers use the web have changed, GA4 focuses on other features that are more useful.
Google Analytics is old. It gives you the data that you want, but quite frankly, it's the data you want because it's what Google Analytics has chosen to give you, so it's what you've learned to  focus on. GA4 allows for much more customization and information that actually matters to your firm (Engagement rate! Cross-device tracking! Funnel exploration!). And all the accounting marketers said, "Amen."
Two big reasons for the change: GDPR/data security and combining web + app data.
Another reason for the change is that up until now, there were two Analytics platforms: one for web and one for apps. Most of us probably don't have apps, but in an app-centric modern world, it was becoming harder and harder for marketers to effectively compare and analyze data.
What Changed?
The biggest change is that GA4 is completely event-driven as opposed to the sessions and pageviews you are used to in GA3. Every action taken by a user in GA4 is considered an event, and these events can provide much more detailed information like scroll tracking, outbound clicks, site search tracking, video engagement, and file downloads. This was not possible in GA3. Some of the metrics, like pageviews and sessions, will not line up the same between GA3 and GA4, so be sure to learn the differences.
There are several things missing in GA4, but the biggest is bounce rate. Bounce rate has been replaced by a new metric called engagement rate. Which, as content marketers, makes much more sense!
Change isn't easy, but don't forget what we're gaining: more flexibility, more accurate tracking across devices and platforms, improved interaction with data, engagement tracking, lots of predictive analytics using AI and machine learning, and better privacy and consent controls. And keep in mind they are introducing some of the enterprise level features, which started around $150k, into the free GA4.
NOTE: This article is a high-level view of a few changes and new features. For a comprehensive guide on using GA4, check out the full article "A Comprehensive Guide to GA4 for Accounting Marketers."
Home Page and Reporting Interface
One of the biggest benefits of GA4 is that it allows you to follow a single user over time across devices, make the reporting more accurate.
At first glance, the interface in GA4 looks very different! It might look intimidating since a lot of the reports and metrics you are used to have either been moved, replaced, or have a new name. To start with, the homepage is re-arranged and has emphasis on new metrics like new users, average engagement rate and total revenue. The homepage also has an "Insights" section with all sorts of information.
NOTE: If you'd like to follow along in Google's GA4 demo account, you can access it here.
GA3 interface:
GA4 interface:
To see what was the typical "Home" screen in GA3, you'll just need to click into the "Reports Snapshot." The new reports snapshot dashboard is card-based and includes most of what was on the left menu in GA3. Almost every card has an option to view more details on the lower right, which takes you to an expanded report of that metric.
The top row of the reports snapshot is what you see on the homepage. The second row of cards is acquisition stats, whereas the last two rows are trends related to retention, events, and conversion.
Reports snapshot top row
Reports snapshot 2nd row
Reports snapshot 3rd and 4th row
The left-nav menu is also quite different. Instead of being broken up into the categories of real-time, audience, acquisition, behavior, and conversions, we now see a division between life cycle and user that include subcategories of acquisition, engagement, monetization, retention, demographics, and tech.
Life cycle subcategories
User Subcategories
NEW FEATURE: Engagement Metrics
GA4 has a new set of engagement metrics that tracks users' engagement with your website much more accurately than pageviews and bounce rate metrics from GA3. This will replace bounce rate – there is no bounce rate in GA4. The new GA4 engagement metrics include engaged sessions, engagement rate, engaged sessions per user, and average engagement time. The overview report also shows event counts, views by page title, activity over time, and user stickiness. These reports will be critical for sites that are content-heavy (like accounting!) instead of commerce.
Engagement report overview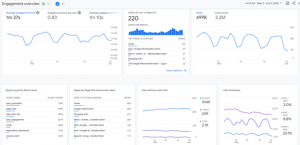 NEW FEATURE: Exploration Reports
The reporting view of GA4 comes with a new set of templates called "explorations." This allows you to do advanced data analysis like funnel exploration, path exploration, segment overlap, user explorer, cohort exploration, and user lifetime report. Previously, only GA 360 customers could use this feature. 
GA4 Path Exploration:
IMPROVED FEATURE: Funnel Analysis and Visualization
Funnel creation and analysis is much improved in GA4. Performance in this area is much faster, but more importantly, only a tiny sample portion of your data was used in GA3. With GA4, the reporting will be much more accurate.
Example: Funnels can now show elapsed time. How long did it take a user to progress to a certain point on your site? The funnel can now help us measure the time from when they first visited our site to when they filled out a contact form. Plus, it will show you the top five next actions if they left the funnel in that step.
What else can you learn about?
GA4 has a ton of features that we could still talk about, so there's plenty to learn. A few things you might want to explore include: segmentation, automated tables, audience builder, demographics overview, tech report, cross-domain tracking, and conversion tracking. 
What do I need to do right now?
Learn! If you haven't' already set up GA4, the consensus seems to be set it up now! You'll be left without any historical data if you don't start tracking it now, and you should spend some time practicing with the new system while you can still compare them. 
Change is hard. Learning and adapting to a new system is hard. But some of the new features in GA4 could be game-changers for accounting marketers. Data that used to be fragmented is now coming together to provide a much clearer view of how users interact and engage with our websites, giving us a much better picture of the full buyer's journey and a better understanding of their life cycle. As marketers and data analyzers, this is a cause for celebration.
Additional Resources
LinkedIn Google Analytics 4 Essentials Training
https://www.linkedin.com/learning/google-analytics-4-ga4-essential-training/what-s-new-in-ga4?autoplay=true&resume=false
GA4 Glossary: New Terms to Know
https://www.monsterinsights.com/google-analytics-4-glossary-new-ga4-terms-to-know/
GA4 Tutorials from Optimize Smart
https://www.optimizesmart.com/category/ga4/
GA4 Migration Plan for B2B Marketers:
https://www.merrittgrp.com/mg-blog/google-analytics-4/
Marketing Profs' GA4 for Marketers Masterclass
https://www.marketingprofs.com/masterclass/46555/google-analytics-4-for-marketers
Great chart comparing terminology from GA3 to GA4
https://www.webfx.com/blog/marketing/what-is-google-analytics-4/

Rachael McGrew is the Business Development Director for Landmark CPAs, one of Arkansas' largest accounting firms. In her role, she wears many hats, including overseeing the firm's marketing and business development strategy, managing internal and external communications, maintaining the firm's social media and web presence, planning and executing firm events and community outreach programs, assisting with M&A, coordinating recruiting campaigns, and serving on industry association committees. Within AAM, Rachael leads an AAM Circle focused on HubSpot. She is a graduate of the Leadership Fort Smith program and a 40 Under 40 honoree by both the Arkansas Business Journal and the Northwest Arkansas Business Journal. She is also a member of the Associated Builders and Contractors of Arkansas' Western Council. Rachael holds a Bachelors of Business Administration in Marketing with a minor in Interdisciplinary Studies from the University of Central Arkansas and a Technical Certificate in Graphic Design from the University of Arkansas – Fort Smith. She is married to an outgoing entrepreneur she's known since junior high, and they have a witty teenager they follow around to volleyball practice and tournaments.
Welcome to CPA Growth Trends — your source for information, insights, tools and best practices to drive growth within an accounting firm.
Featured: Season 4 Episode 1
with Danielle Reynolds, Business Development, Manager with Whitley Penn
A business developer's day involves a myriad of activities from external meetings with business owners and referral partners to scoping calls for initial client connections.