Emerge 2020 Summary: A Collaborative Approach to Marketing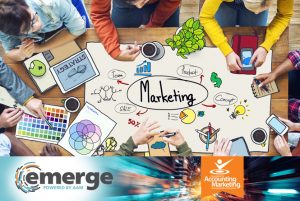 One of the most important takeaways from Ronelle Seller's presentation during Emerge 2020, "A Collaborative Approach to Marketing," was about setting the expectation for how accountants need to contribute to business development and marketing activities from day one. The second was to create initiatives that got them excited to participate.
What is a collaborative approach to marketing?
Holding accountants accountable for marketing and business development activities
Telling a group of accountants that they need to engage in these activities with little to no personal stakes isn't enough. You need to connect with each person in the firm to develop their personal marketing and business development goals. Armed with specific goals and action items in mind, you're setting up your accountants for success. By extension, your marketing and business development initiatives will greatly benefit.
Beyond giving accountants their personal goals, have them serve on teams within your firm. You can also encourage them to be active outside of your firm. Staff members can serve on referral or business development teams, or serve in the community. Finally, operate with an open-door policy. Staff members should feel like they can bring marketing and business development ideas to the table. Remind them that you are always on the lookout for good ideas that align with marketing goals.
Getting your staff inspired and involved with creative campaigns
Ronelle also shared some more personal initiatives HHM has taken lately to connect with prospects and referrals that also increased buy-in from employees. One was a sour/sweet box pairing. The first delivery addressed problems that leave a sour taste in your mouth, and the second offered a sweet solution one week later, accompanied by sour and sweet foods and information on HHM's services. The third week involved a call to the prospect to follow up. They started small – about 30 boxes – but soon their initiative grew to delivering a total of 350-400 boxes to prospects, with people going all-in on the idea. The idea stood out. More importantly, it helped HHM get meetings and business they had trouble reaching out to previously.
For referrals, HHM has been hosting a successful Dine and Dash event. Referral sources could attend for as little as 5-10 minutes or as long as a couple of hours. At the end, they'd be able to take a gift basket that included everything for an at-home family dinner. The event became so popular that they had to cap it at 75 attendees.
Creating these visible, unique initiatives increases the visibility of your firm. It also increases internal visibility on your marketing and business development activities. It's easier to get participation from firm employees when they can see the connection between initiatives and results. If you get employees to create personal goals for their own marketing and business development involvement, generate opportunities for participation, and create programming that excites prospects, referrals, and employees, you've got a sweet recipe for success.
What is Emerge?
Emerge is marketing and business development reimagined. How we lead teams, speak to and engage with clients, manage brands and help propel business growth forward has been redefined. It's not the rules that have changed, it's the whole game. Emerge is AAM's two-day virtual marketing conference designed to inspire, transform, and elevate with the information needed today.
The recordings for the 2020 Emerge Virtual Conference are now available for purchase in the AAM Store. Click here to purchase and access this valuable training to grow your accounting marketing expertise.
Emerge attendees can still access the recordings for free using their conference log in credentials here.

Welcome to CPA Growth Trends — your source for information, insights, tools and best practices to drive growth within an accounting firm.
Featured: Season 2 Episode 1
with Dan Hood, Accounting Today
The Intersection of Marketing and HR for Accounting Firms Strategic Planning for the Future, Observations, and Advice -w- Dan Hood, Accounting Today