Surveys, Studies, Research, and More
Are you looking for a way to benchmark your role and your firm's marketing and business development efforts against others? As a leader, your influence is powerful. Marketers, business development and practice growth professionals are asked to share their insights to keep the accounting marketing profession strong.
2023-2024 AAM Marketing Budget Benchmark Study
This year's AAM Marketing Budget Benchmark Study dives deeper than ever into the composition of marketing budgets for accounting firms of all sizes. With a special focus on what the fastest-growing accounting firms do differently, this study delivers insights available nowhere else.
New to this year's edition:
How firms organize their marketing and business development teams
How marketing teams support their firm's talent recruiting and retention initiatives
What kinds of technology accounting firms use to propel their marketing programs
We have also expanded the total list of marketing techniques studied to include all the ways modern firms go to market.
And that's just the beginning. Here's what else you'll learn:
What percentage of revenue firms dedicate to their marketing budget
What marketing techniques firms are using to help them grow 5X faster than average
Which marketing techniques are preferred by slower growing firms
Where the fastest growing firms plan to increase their marketing spending
How company culture relates to firm growth
Details on what kinds of marketing technology is being deployed in the industry
Access this research report today! Discounted pricing for members of AAM!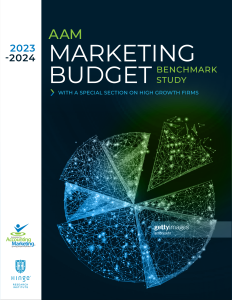 Purchase the 2022 AAM Biennial Compensation Survey
AAM's Biennial Compensation Survey, done in partnership with Ingenuity Marketing Group, is now available for purchase! 
Since 2010, AAM has conducted the Biennial Compensation Survey to help marketing leaders, accounting firm partners and human resources professionals identify new strategies for attracting and developing marketing and business development talent at their growing firms.
The AAM 2022 Biennial Compensation Survey Report gathered data from 200+ of the most senior marketing and business development professionals within accounting and advisory firms of all sizes across the U.S. and Canada.In addition to current salary/wage data organized by marketing and business development positions, your report will include:
Deeper data on the new value proposition of salaries
Top benefits and perks and recommendations for bonuses and variable compensation
Average team size and tenure
Regional data
Canadian highlights
Top marketing specialties
Higher education pursuits
This report is the most comprehensive source of compensation and benefit data specific to the accounting marketing and business development profession.