Articles of Interest: Marketing Team of One and When to Outsource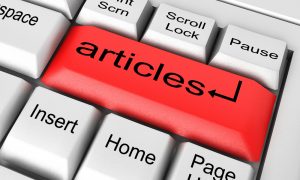 Are you a marketing team of one (or maybe a few) that never seems to have enough time? No matter your superpowers, one person cannot be an expert in every aspect of marketing, and a time will come to call in help. These articles discuss how marketing teams of one can not only succeed but thrive while helping your firm grow. They also cover how to determine what and how much to outsource.
You can thrive as a solo marketer, but it's not for everyone. This article discusses 11 different areas marketing teams of one need to ensure are in place to help you succeed.
Whether you are a marketing team of one or 25, finding ways to do more in less time can help any team. Part One of this series discusses ways how small or one-person marketing departments can do more in less time, while Part Two shares the actual tools you need to accomplish this.
As one-person marketing team, knowing your limits and setting boundaries are crucial. This article shares advice from a marketing professional who has been in these shoes.
You know you cannot do it all, but how do you know when and what you should outsource? This article by HubSpot discusses different scenarios (along with their advantages and disadvantages) one can take when evaluating outsourcing.
Is outsourcing marketing right for your firm? Professional services marketing is evolving, and there is likely an aspect of marketing that your firm needs help keeping up with. This article by Hinge Marketing outlines the reasons why firms outsource some or all of their marketing as well as the benefits and risks of doing so.
Do you understand what your personal strengths and weaknesses are? This article in Forbes' Leadership section shares why it is critical to know your skills when you are managing all aspects of marketing on your own.

Tanya is the Director of Marketing at a Delta Consulting Group. She is responsible for developing and executing the firm's overall growth goals and objectives, and oversees the development, implementation and execution of Delta's marketing strategy.
Welcome to CPA Growth Trends — your source for information, insights, tools and best practices to drive growth within an accounting firm.
Featured: Season 2 Episode 1
with Dan Hood, Accounting Today
The Intersection of Marketing and HR for Accounting Firms Strategic Planning for the Future, Observations, and Advice -w- Dan Hood, Accounting Today