3 Fresh Communication Strategies for the Digital Age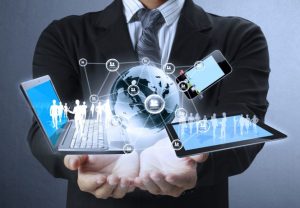 The COVID-19 pandemic has pushed fast-forward on the speed and frequency in which we digitally communicate. In this new virtual workplace, our daily routine is saturated with communication: emails, Zoom meetings, instant messages, phone calls, remote conferences, and digital happy hours. While the benefits of fast and easy communication are abundant, there are some challenges as well. A constant contact lifestyle is overstimulating, draining, and can lead to burnout. Now is the time to hit refresh and try out some of these new strategies of delivering messages to your audiences, both internally and externally.
Tip #1: Keep it Bite-Size
Overstimulation is the monster we are all fighting daily. With that in mind, one idea gaining popularity is the concept of bite-sized information. Working remotely does not have to mean long, drawn out Zoom meetings. Getting to the point is of the utmost importance if you want to keep engagement high as well as show that you are respecting your audience's time. We are seeing this method used in audio, like the MNP 3 minute Debt Break Podcast. This is a fantastic way to earn the trust of your audience by respecting their time, but be sure to get the most important part of your message delivered.
Additionally, keeping things bite-sized can be a good foundation for designing email newsletters. When a company sections off small pieces of information that link to the more detailed stories (like our very own AAM Newsletter!) this will give the reader a nice digestible amount of details, which they can then choose to use in deciding what they really need to know or focus on. If done well, this strategy should lead to more impressions and higher engagement as recipients click through to your website for the information they desire.
Respecting that everyone is currently being bombarded with information and various demands on their time by delivering bite-size communications that get to the bottom line is a great way to ensure your message does not get lost in the white noise of an inbox.
Tip #2: Insert a Video
Adding short videos inside of your emails is a fresh take on the old-fashioned e-newsletter. And it is easier to do than you might think! Not only will a video make your email stand out in an overcrowded inbox, but it also shows the recipient that you are willing to put forth the effort to grab their attention. Externally, clients will be inclined to perceive the message in the video to be important and therefore worth the effort it took to create. Internally, your staff will appreciate the opportunity to see and hear people they know personally. All recipients will be intrigued, which is never a bad thing in marketing.
Be sure your video is embedded and not an attachment. The most common way to do this is to use a site like YouTube or Vimeo to host your videos. From there, you simply add the link in your email and it will embed within the message. Another option is to use a company like BombBomb that offers a monthly subscription service to help you record, upload, and track the success of your videos. This sort of service could potentially be worth the investment if you intend to use this communication method frequently and do not have the IT staff to assist you in troubleshooting.
One thing to note: some clients will be wary of clicking on videos in emails due to virus or hacking concerns. A video message strategy may best serve you in an internal capacity. A popular choice for internal use is to pre-record a Zoom or Microsoft Teams video message and send the link to your employees for quick and easy viewing. Either way, your audience will appreciate a chance to rest their eyes from reading another long email, and you will be able to get a clear message across.
Tip #3: Ask for Feedback
Anonymous surveys are a great way to allow people to speak their mind honestly. Wherever your focus currently is—whether it be external or internal communications—a quick survey can take a pulse on how your messages are being received. Ask questions like:
How would you rate the value of the current content we send out?
What content would you like to see more of?
What is your favorite way to receive communications?
Do you feel that our company is respectful of your time and inbox with our current digital communication strategies? If not, how could we improve?
Try one or more of these strategies out to see if you can improve engagement with your audience. Cultivate a culture of innovation and respect by showing your clients and staff that you value them and their need for fresh communication in today's virtual reality.

Jenn is a Southern California native who studied at the University of California, Riverside. She owns a small business with her husband, where she cultivated her passion for both marketing and writing. She is also the Marketing Coordinator for the California offices of the Eide Bailly LLP accounting firm. Outside of work, Jenn enjoys reading, all things fitness, and hanging out with her three-legged dog.
Welcome to CPA Growth Trends — your source for information, insights, tools and best practices to drive growth within an accounting firm.
Featured: Season 4 Episode 1
with Danielle Reynolds, Business Development, Manager with Whitley Penn
A business developer's day involves a myriad of activities from external meetings with business owners and referral partners to scoping calls for initial client connections.